English
'When I read great literature, great drama, speeches, or sermons, I feel that the human mind has not achieved anything greater that the ability to share feelings and thoughts through language'
James Earl Jones
It is our intention that our sequenced English curriculum will promote learning for life, by ensuring that children acquire the necessary literary knowledge, skills and understanding which will equip them with the fundamental tools to achieve in school and beyond.
Reading: What is our intent?
At Burston and Tivetshall, we value reading as a key life skill and are dedicated to enabling our pupils to become lifelong readers. We believe reading is key for academic success and also a door to further learning and enjoyment. It is our intention to immerse pupils in the wonders of quality texts to instil a love for reading, a passion for discovery and a confidence to explore their imagination.
Our intention is that by the time they leave our schools, EVERY child becomes a reader in order to open doors for all, regardless of background and culture.
Our reading curriculum is underpinned by the National Curriculum.
At Burston and Tivetshall we intend to:
Ensure our children have access to a high-quality reading curriculum that is both challenging and enjoyable.
Provide our children with a variety of high-quality reading materials & opportunities, which will enable them to develop as lifelong readers with a passion for reading.
Enhance all children's vocabulary and use of standard English both oral and written.
Ensure all children are confident and independent readers.
Encourage pupils to become inquisitive readers and active learners who ask questions about the text
Equip all children with the reading skills needed to successfully research areas of personal interest.
Support children & parents in taking reading into the home.
We aim to ensure:
By the end of the Autumn term in Reception, all children have secured phase 2/3 sounds and are blending c-v-c words.
By the end of the reception year, children will have secured phase 4 and be reading words containing consonant blends.
By the time children leave year 1, all children have secured early reading skills based on phonic decoding at phase 5 level and have achieved a pass at the PSC.
By the time children leave year 2, they are reading with automaticity and understanding.
By the end of year 6, children will have been exposed to a wide range of authors and texts so that by the time that they leave us, they are competent readers who can recommend books to their peers, have a thirst for reading a range of genres and participate in discussions about books.
Reading: What is our implementation?
Our implementation is developed through secure understanding of the curriculum and subject area.
Decoding & Fluency:
Phonics is taught using the Little Wandle Revised Letters and Sound programme. This is a DfE validated, synthetic phonics programme, which is followed rigorously to teach phonics, early reading and spelling.
We follow this scheme with fidelity, starting in the second week of the Autumn term in Reception.
We assess regularly, and our aim is to ensure that children keep up rather than catch up.
We strive to follow the step-by-step daily lessons and to keep a steady pace from Reception throughout Key stage 1.
We use fully decodable books matched to the Little Wandle programme to ensure pupils are able to apply their developing phonic knowledge daily.
For more information on Little Wandle Letters and Sounds Revised please see:
https://www.littlewandlelettersandsounds.org.uk/resources/for-parents/
Ensuring consistency and pace of progress:
Every teacher in our school has been trained to teach reading, so we have the same expectations of progress. We all use the same language, routines and resources to teach children to read so that we lower children's cognitive load.
Weekly content grids map each element of new learning to each day, week and term for the duration of the programme.
Lesson templates, Prompt cards and How to videos ensure teachers all have a consistent approach and structure for each lesson.
The Reading Leader and SLT use the Audit and Prompt cards to regularly monitor and observe teaching; they use the summative data to identify children who need additional support and gaps in learning.
Oracy & Comprehension:
Good comprehension draws from our knowledge of vocabulary and our knowledge of the world.
We provide our pupils with language rich learning environments, a range of opportunities to develop their speaking and listening skills and whole year group or class shared reading experiences.
We use a range of fiction text types, as well as a selection of non-fiction texts, such as newspapers, chronological reports and diaries, to ensure that our pupils experience a broad variety.
Our high-quality texts are carefully chosen in order to meet the academic needs of each year group, with the 'Whole Class Reading' model providing all our pupils with the opportunity to discuss the texts and answer questions.
Adults read daily to pupils promoting reading for pleasure.
During reading sessions, pupils are given the opportunity to secure the core elements of reading: summarising, vocabulary work, question asking, prediction and question answering.
In KS1 children will become familiar with:
Rex Retriever (retrieval)
Victor Vocabulary (vocabulary)
Sequencing Susi (sequence or summarise)
Inference Iggy (inference)
Predicting Pip (prediction)
Explanation work will also be undertaken.
These skills will be built on and further developed and embedded throughout KS2.
Early Reading: From their very first days in our EYFS our pupils have opportunities to develop the early language skills necessary for understanding and retelling stories. They explore and learn through singing and saying rhymes, making and listening to music, talking with others, sharing books with adults and other children, dressing up, experimenting with writing, using puppets, toys and drama to retell and make up their own narratives. Regular story times occur throughout the day to allow pupils to enjoy a range of high-quality texts.
Guided Reading: During guided reading sessions, children in Y1-6 will work in small groups together with an adult. A shared text is carefully selected at an appropriate level so that children are able to access it. The focus of guided reading is often on developing fluency but will also support the teaching and learning of additional identified reading skills, giving a specific focus for learning. Guided reading takes places outside of English lessons with identified children receiving a higher number of sessions in order to accelerate progress.
Individual Reading: Pupils in the Early Years are invited to choose a book together to share and enjoy at home. Once reception pupils are ready and then throughout KS1, pupils are given a home reading book from our fully decodable reading scheme. In Y2, once pupils are able to decode fully and are reading with fluency and prosody, they will move on to bridging books. These prepare them for the move to KS2. KS2 pupils continue to have access to banded books but are also encouraged to choose a 'real' book from an appropriate level from our school library to enjoy.
Children here are encouraged to read at home daily and we ask adults to support their child's learning by recording the reading that they do at home in the individual record each child brings home. We want our children to become proficient readers to enable them to access all areas of the curriculum and a lifelong passion for reading.
The reading environment: We recognise that all classrooms and all school areas should provide a print rich environment. Reading displays should form a part of that environment. All classes will have book areas that will appeal to children of all abilities and could include favourite books/authors, core texts, book reviews, the class novel and topic books. This will help to develop reading enthusiasm. Reading displays around school promote the enjoyment of reading. Pupils have access to the school library which is inviting to children.
Reading for Pleasure; Reading for pleasure permeates through everything that we do. In addition to daily class novel and reading sessions, there are occasions/events planned throughout the year to support the reading for pleasure agenda. These have included: dressing up as favourite characters; promoting World Book Day; author visits/workshops; story related visits/trips; book door displays; initiatives like 'extreme reader'; and reading buddies.
Reading: What is our impact?
Assessment is used to monitor progress and to identify any child needing additional support as soon as they need it.
Assessment will be undertaken in line with the school's marking and feedback policy.
Children will be assessed in line with age related expectations set out in the assessment documents of the 2014 National Curriculum.
Regular structured assessments will be undertaken to monitor progress throughout the school and to enable the setting of relevant, realistic personal targets.
Assessment for learning is used:
daily within class to identify children needing Keep-up support
weekly in the review lesson to assess gaps, address these immediately and secure fluency of GPCs, words and spellings.
Summative assessment is used:
every half term to assess progress, to identify gaps in learning that need to be addressed, to identify any children needing additional support and to plan the Keep-up support that they need.
by SLT and scrutinised through the Little Wandle Letters and Sounds Revised assessment tracker, to narrow attainment gaps between different groups of children and so that any additional support for teachers can be put into place.
Writing: What is our intent?
At Burston and Tivetshall Primary Schools, it is our intention that all children develop the necessary skills needed in order to communicate effectively in their spoken and written language.
We have designed our Writing curriculum so that our learners:
Develop a life-long enjoyment of writing
Are able to write fluently so that they can communicate their ideas and emotions to others
Can develop their vocabulary understanding and use this accurately and in context within their writing
Are able to write for a purpose, across a range of different genres, both fiction and non-fiction
Understand the spoken word, use expression and participate as a member of society by speaking fluently and articulately
Implementation (How do we teach it ?)
Our Writing curriculum is taught using the Jane Considine approach 'The Write Stuff':
Using this approach to writing, the children explore high level, rich vocabulary and are taught grammar in context through different writing lenses on the Writing Rainbow. There are three lenses used to support children with their writing:
Fantastics – ideas for writing
Grammaristics – tools for writing
Boomtastics – writing techniques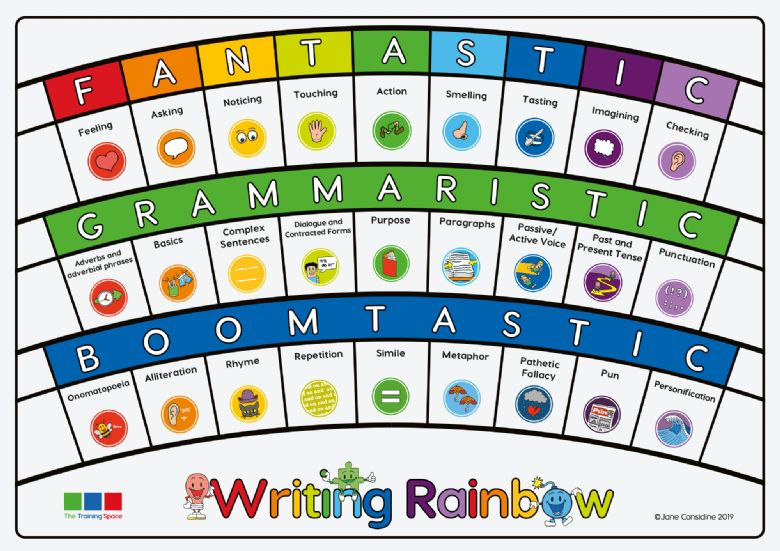 The Write Stuff is based on two guiding principles; teaching sequences that slide between experience days and sentence stacking lessons.
As part of the teaching sequence, teachers plan experience days, sentence stacking lessons and independent writing sequences. Experience days immerse children in experiences linked to their writing and drench them in vocabulary linked to the lenses in 'The Writing Rainbow'. From the experience days, children take part in the sentence stacking lessons. Sentence stacking lessons focus on writing three sentences using the different lenses from the rainbow.
'The Write Stuff' follows a method called 'Sentence Stacking' which refers to the fact that sentences are stacked together and organised to engage children with short, intensive moments of learning that they can then immediately apply to their own writing.
An individual lesson is based on one plot point from the text, broken in to three learning chunks:
1. Initiate section – a stimulus to capture the children's imagination and set up a sentence.
2. Model section – the teacher models a sentence that outlines clear writing features and techniques.
3. Enable section – the children write their sentence, following the teacher's model.
This part of the unit is heavily scaffolded with lots of teacher input and modelling of vocabulary use, sentence construction and use of grammar with reference to the 3 writing lenses.
During the initiate section children 'chot' (chat and jot) down their ideas from stimulating resources, such as pictures, music and drama. The children are encouraged to use 'kind calling out' where they call out examples of vocabulary, adverbs, onomatopoeia etc.
During the Model section the teacher prepares children for writing by modelling the ideas, grammar and techniques of writing taken from the writing rainbow.

In the Enable section pupils write their own sentences, taking the opportunity to deepen the moment. 'Deepen the Moment' is where children are challenged to independently draw upon previously learnt skills and apply them to their writing during that chunk.

Following the sentence stacking, children are given the opportunity to show what they have learnt by planning and writing their own independent piece of writing. After they have written their independent piece, their work is marked by the class teacher who identifies different aspects of their written piece to be edited. There are 3 elements to the editing;
E1 Edit: The Revise
These are often 'little' adjustments or changes and tend to fall into one of these categories; Spellings, missing words or punctuation.
E2 Edit: The Rewrite
Children are asked to re-write a sentence if it doesn't make sense, could be restructured or generally improved.
E3 Edit: The Reimagine
This is when a writer wants to add more sentences to develop an idea further. This is done either through the use of 'editing flaps' or children add additional information at the end of their piece of writing, indicating the section it belongs with in the original piece of work.
Impact (What has been the impact and how do we know?)
The impact of the Writing curriculum at Burston and Tivetshall Primary Schools can be seen through:
Our children's enjoyment of writing
The quality of writing within the children's books, across all areas of the curriculum
Our children's ability to write for a range of purposes, across a range of genres, both fiction and non-fiction based
Our children's ability to select and use vocabulary to excite, inform or entertain the reader
Our children's understanding and use of a range of punctuation, knowing the effect it can have on the reader in both writing and reading.
Our children's understanding and use of the various sentence types that can be used to support different genres.
Our children's ability to use phonetic knowledge and spelling rules to spell words accurately
Our children's ability to speak clearly, fluently and coherently; to be able to listen attentively with understanding, pleasure and empathy and contribute to group discussions effectively.
Assessment will be undertaken in line with the school's marking and feedback policy.
Children will be assessed in line with age related expectations set out in the assessment documents of the 2014 National Curriculum.
Regular structured assessments will be undertaken to monitor progress throughout the school and to enable the setting of relevant, realistic personal targets.
Spellings
We follow the spelling rules for each year group as laid out in the 2014 National Curriculum. Children in each year group, 1-6, are set spellings weekly on which they are regularly assessed. Where individuals require additional support in spelling rules they have already been taught but are not secure with, individual or small group interventions are carried out either in class or with an experienced Teaching Assistant.
Handwriting
Handwriting is a basic skill that influences the quality of work throughout the curriculum. By the end of key Stage 2 all pupils should have the ability to produce fluent, legible and, eventually, speedy joined-up handwriting, and to understand the different forms of handwriting used for different purposes. Our intention is to make handwriting an automatic process that does not interfere with creative and mental thinking.
Our aims:
To develop a neat, legible, speedy handwriting style using continuous cursive letters, which leads to producing letters and words automatically in independent writing.
To establish and maintain high expectations for the presentation of written work.
For pupils to understand, by the end of Year 6, the importance of neat presentation and the need for different letterforms (cursive, printed or capital letters) to help communicate meaning clearly.
All teaching staff are encouraged to model the cursive style in all their handwriting, whether on whiteboards, displays or in pupils' books.
Handwriting is a cross-curricular task and will be taken into consideration during all lessons. Formal teaching of handwriting will be carried out regularly and systematically to ensure Key Stage targets are met.